---
Maroa-Forsyth School Archives
---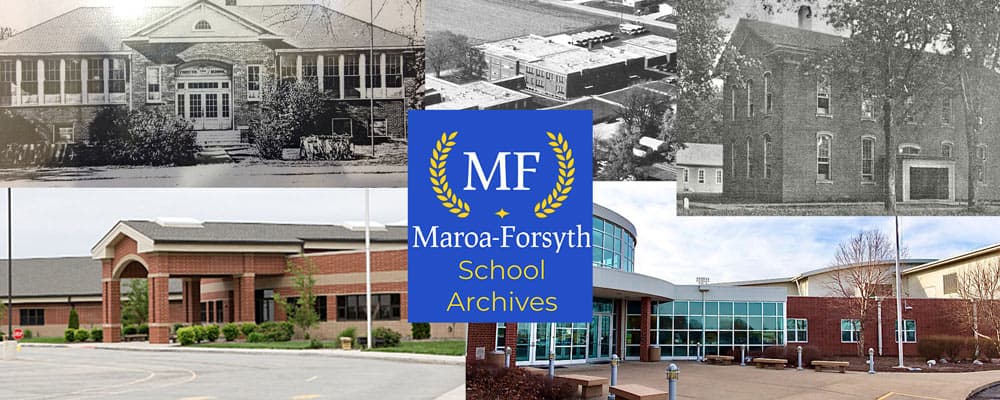 Welcome to the MF School Online Archives!
Created in 2014, the MF School Archives holds records, documents, photographs, and artifacts relating to the Maroa community and the Maroa-Forsyth School District. Materials in the Archives date back to the late 1800s and include a variety of written, digital, and audio/visual items. This material contains a wealth of information about the Maroa-Forsyth School District history, the smaller one-room schoolhouses which consolidated to form the district, former pupils, staff, programs, athletic and extra-curricular activities, and other items of historic interest. The rich history of our district can be seen through the many photographs collected on our Flickr page, in the online Yearbook collection, and through the various collections housed in the Archives Room.

If you have any Maroa-Forsyth School materials that you would like to donate or any research requests, you can email the archivist at MFSchoolArchives@gmail.com.


---
School and
Alumni News
---
Check out the
June Athletics & Activities Newsletter
from Athletic Director, Phil Applebee.
Trophies from the School attic are being auctioned on eBay. Follow
here
to keep up to date on which trophies are for sale.
Having a class reunion in 2023? Be sure and contact the School Archives. Your reunion information can be posted here. Archive items can be made available for your gathering. Contact
Maroa-Forsyth School Archives
to see what we have from your time at MF.
---
Reunion News
---
*The Class of 1978 will be celebrating their 45th class reunion on homecoming weekend. Please contact Andrea Shaffer (shafam4@att.net), Jenny Day (jennyday78@gmail.com), or Kim Moore (kimmoore500@yahoo.com).
*If anyone in the
Class of 1963
is interested in having a reunion, please contact Sharron Williams Jones at
sharrjones@comcast.net
.
---
Historical items have been made available to the community for research and study purposes and to satisfy curiosity. Due to the nature of the colloquialisms, culture, attitude, and/or political climate of the various time periods represented, some content may be deemed "inappropriate" if viewed outside of its historical context. In addition, the newspapers, logos, branding, and other publication identifiers are the trademarks of the newspapers and other publishers. Our use of newspaper content contained in this archive in no way implies an affiliation with, or endorsement from, the publisher. Included photos have been identified from owner's notatations or through community members. If you believe there has been an error in identification of any materials, please email the Maroa-Forsyth School Archives.